Wednesday, February 3, 2021
Conversations: SMALL STEPS WE CAN TAKE RIGHT AWAY — Strong Towns + Creative Placemaking (FREE)
ZOOM LINK:
https://us02web.zoom.us/j/83439578549
Join Zoom Meeting: https://us02web.zoom.us/j/83439578549
Meeting ID: 834 3957 8549. One tap mobile:
+19292056099,,83439578549# US (New York)
Join us, Wednesday, July 7, 2021, from 6 to 7 PM for LexArtSci Conversations as we speak with artist Dan Bruce about his band of sojourning musical talent known as Further Maritime, artwork and community building.
Join us, Wednesday, June 30, 2021, from 6 to 7 PM for LexArtSci Conversations as we speak with architect duo Gabriele Moritz + Sam Bargetz (@thediamondnotch) on the development and build-out of the Diamond Notch, a tent-sized passive house level insulated bivouac, conceived and executed during pandemic times and recently sited at LexArtSci.
This lockdown baby was also a real community effort and we are proud to see where the project goes. We believe it has the potential to address many larger problems – from four-season off-grid accessory use to affordable temporary housing for emergencies or single-artist residency uses.
And we believe it helps make Lexington stronger — by carrying forward the tradition of innovation and experimentation, for which Lexington was famously an artists' mecca, and which energy we are busy rekindling.
Link at lexartsci.com
Great big thanks to:
@van_dusens @paohurtado2 @patrickmeagherstudio @futur_build @foursevenfivedotcom @rgoyenko and many others who made this project possible!
Join us, Wednesday, June 23, 2021 for LexArtSci Conversations as we speak with Paul Slee Rodriguez, Executive Director, International Arts Relations (INTAR) about theater and synergies with local businesses.
A dual US-Colombian citizen, Paul previously served as Executive Director of the Ensemble Studio Theatre (EST) from 2007 to 2018. During his tenure the company eliminated $1,000,000 in accumulated debt, increased its budget and staff by 90% and garnered the Ross Wetzteon Obie Award from the Village Voice for its EST/Youngblood program for playwrights under 30, a Special Drama Desk Award, and five Tony Award nominations (for Hand to God which originated at EST). Prior to EST Paul served as Executive Director of New Dramatists, where he helped create grant, award and exchange programs for American playwrights and supported the development of hundreds of new plays; and as Executive Director of INTAR, where he moved the company from its former headquarters on West 53rd Street to its present location. Paul currently serves in a volunteer capacity as Board President for the Hispanic Organization of Latin Actors (HOLA) and as Board Member of CultureHub, an art and technology community founded by SeoulArts in South Korea and LaMama ETC in New York City.
https://www.theatermania.com/off-off-broadway/reviews/oso-fabuloso-and-the-bear-backs-intar-jimenez_92395.html
Paul A. Slee Rodriguez
Executive Director
he/him/his
INTAR Theatre
intartheatre.org
(917) 693-7887
Join us Wednesday June 16, 2021 from 6-7PM as we speak with community builder Benjamin Gutierrez about how mindfulness builds strong towns. Through a strong connection with ourselves we achieve compassion and community. We may even touch upon the application of mindfulness to our revitalization of Lexington.

Join us Wednesday June 9, 2021 from 6-7PM for exploratory ideation with Patrick Meagher (ok, nothing specific).
"Internet Rocks and social currency
CHITROCKS and the bitrock protocol bit rocks are mined upstate in rivers and on the beach on long island, gradually by collecting rocks with either flat and regular shapes. the round ones can become bitcoin bitrocks and the ovals can become ethereumm and there is no intended cap on production other than interest by the artist or market. but the process is intended to be gradual and work with nature and not alter landscapes etc. keeping that in mind, the project grows in value and meaning when embraced more widely.. so this project is open source and anyone could produce their own bitrocks based on patrick meagher's earlier "Internet Rocks" that played with bringing internet buttons into the natural landscape as a metaphor and caveat. Each rock is painted, clear coated, signed, and editioned with roman numerals. It would also be fun to pair this exchange with various local logo coinrocks or various other coin based shitrockcoins or general art rocks. bitrocks can be exchanged for real goods and services. the artist gives the rocks to friends and if someone accepts it they take a picture of the exchange and document it in exchange for a replacement coin, so that the original owner suffers no loss. the exchange of the rock solidifies their original provenance of ownership and ups the ante in various ways: when someone exchanges the bitrock for access to a museum or trade with a notable art collector or possible art supporter, the original rock they traded will be replaced with multiple rocks. artists can trade their internet rocks amongst themselves as tokens of appreciation and exchange and for the fun of it and to produce bouquets and piles of internet rocks as iterative social artworks that speak to their communities. internet rocks have a wabi sabi aesthetic for preservation so that the use value writes itself on the rock. when the rock is highly exchanged it will fade into a vaguely colorful stone and could be returned to the source or kept as a memento. the social blockchain of the exchange would however hold some social interest hopefully and eventual art value like a warhol brillo box or joesph beuys felt postcard, and open art editions. traditional chit systems are usually verbal exchanges but for visual artists and people working across various disciplines. at the very least it can be used as a paperweight. bitrocks are ideally exchanged in a handshake palm to palm, filling the physical void of the gap in hand and increasing the gravity of the contact, and perhaps the social bond and creative concept. get your bit rock today and rock on
–patrick meagher gabriela d'addario
recipients:
danyle bruce sandra botnen jane gennaro iké ude alex ulam alex rodridguez paola hurtado nancy and louie add your name and add a pic of your bitrock or bitrock exchange below 🙂 jane gennaro Jane Gennaro exchange of Patrick Meagher bitrock at the Museum of Art and Design 2021 – it's apparently on its way to China!"
Join us, Wednesday, June 2, 2021 from 6 to 7 PM, as we speak with entrepreneur duo Caitlin Williams and Will Sperling: full-time Lexingtonians with decades of food retail experience opening a General Store in the Lexington hamlet in mid-2021. Your input is welcome and appreciated as we take this big step together in the revitalization of Lexington hamlet!
Join us, Wednesday, May 26, 2021 from 6 to 7 PM, as we speak with Tristan Fitch (www.tristanfitch.com), a sculptural artist living and working with his land in Catskill, NY, about his start in theater, LexLab, and his strong emotional ties to Lexington in particular during Ensemble Studio Theater's stewardship of the Lexington House.
Join us, Wednesday, May 19, 2021 from 6 to 7 PM, as we speak with gallerist and community builder Stephanie Adara (instagram.com/stephanieadara), about Joey's Grandpa Monte's photographs of the Lexington Market and its people, and a planning a retrospective gallery show about the past, present and future of Lexington hamlet.
Join us, Wednesday, May 12, 2021 from 6 to 7 PM, as we speak with West Kill Brewery founder Mike Barcone (https://hvmag.com/food/beer/west-kill-brewing/). Mike, who grew up in West Kill, opened the brewery with his wife Colleen in 2017, and is an active member of the Board of the Town of Lexington. He is a socially-conscious entrepreneur and a community builder and it is an honor to speak with him.
May 5, 2021 6-7PM EST: Strong Towns & Creative Placemaking (Free via Zoom)
Michael was very involved with Arts Awareness at Lexington House since the early 1980s. Michael connected with Lexington Arts + Science recently and offered insight as to how we might consider building out as an organization in service of artists and the community. We will talk casually about his experiences as a musician and being part of a community based arts organization with global influence and local impact.

Wednesday, April 28, 2021 6:00PM-7:00PM
Conversation: How Artists Build Strong Towns (FREE).
This week we speak with FOUR-D about artistic production, community building and recent work at Lexington House.
FOUR-D is a curatorial and exhibition design project created and run by Grace Caiazza (she/her) and Lizzy Chiappini (she/her). With respective backgrounds in architecture and interactive technology, Caiazza and Chiappini are interested in non-traditional exhibitions that hinge on interactivity and site-specificity. FOUR-D's aim is to reframe the experience of art viewing as a series of performative "encounters" with artworks, as well as bring audiences closer to each artist's creative process. Their exhibition history includes Studied at The Spring/Break Art Show, Devotional at the Church Troy, as well as many other exhibitions taking place in a variety of sites including a blackbox theater, a storefront, and a former Freemason's lodge.
@four_dprojects
———————–
On Wednesday, April 21, 2021 from 6-7PM we spoke with artists Sue Roh and Jordan Walters about their recent work at the Lexington House.
"Nestled into one of the curves of the frozen over Schoharie Creek, the Lexington House was deafeningly silent during our stay in the dead of winter except for the occasional rustling of a tarp curtain or the scuffling of a mysterious furry friend. Even though we were alone in a House that was intended to shelter hundreds, we felt the vestiges of former residents, vacationers, and artists matryoshkaed in the crumbling walls of the House.
In our video piece, we wanted to capture the previous movement and activity of the House and its character through the personification of its essence. We researched the House's history, took photos and videos, made measurements of walls and doorways, danced and sang to recreate its former life. Digging into the House's archives, we discovered a pamphlet for a performance in the House by jazz musician Jeanne Lee called "Conspiracy." Her visceral poetry and voice inspired our piece as we translated the House from a physical archive to a digital experience. We hope that you get a glimpse of the hallucinatory sanctuary that we experienced as you get lost in the different rooms and winding hallways."
-Sue Roh & Jordan Walters
@four_dprojects
@prattsville_art_center
PAST EVENTS:
Saturday, August 28 from 3 PM to 6 PM. Mocktails to celebrate the first Gallery show at the reactivated Lexington House. Free.
March 31, 2021. Nancy Barton, artist and founder of Prattsville Art Center. PrattsvilleArtCenter.org. Damien Davis, artist. Damien Davis (b. 1984) is a New York-based artist, born in Crowley, Louisiana and raised in Phoenix, Arizona. His practice explores historical representations of blackness by seeking to unpack the visual language of various cultures and question how these societies code/decode representations of race through craft, design and digital modes of production. DamienDavisStudio.com
—-
Saturday, April 10, 2021
MUSICWORDSFOODLOVE
A cold, wet, dreary day outside in the cold
---
Saturday, April 10, 2021
MUSICWORDSFOODLOVE (Lineup and tickets TBA)
A damp, dreary picnic outside on the (probably muddy) meadow, with haphazard live music, spoken word, film and maybe something good.
———
---
RELATED MATERIAL
On Tuesday, February 9, 2021, Strong Towns' founder and urban planner Charles Marohn spoke with the citizens of Kingston, New York about creating a stronger and more resilient town by understanding how it developed in the first place, as well as overhauling the antiquated 1960s zoning law which remains in effect today.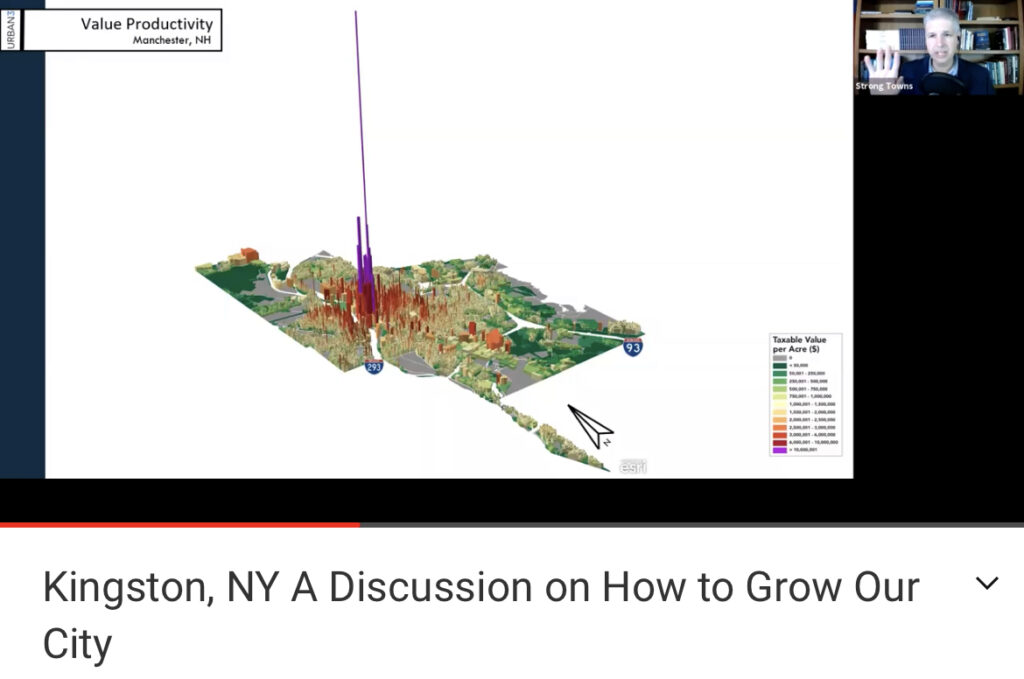 "Kingston New York, A Discussion on How to Grown Our City," The Kingston News (YouTube):