Upcoming Events
Spring 2022 – Van Dusen's General Store, facilitated by LexArtSci in collaboration with Mary Kaplan & Patrick Meagher, is slated to open. This is the first public-facing business to open in the hamlet in over 20 years.
Spring 2022 – Pratt Institute Student Works on display at Lexington House. In Collaboration with Professor Duks Koschitz of the Design Research in Architecture Program.
Summer 2022 – We will [hopefully] be participating in Upstate Art Weekend – stay tuned.
Ongoing – LexArtSci's Free Form Artist Residency Program. Propose your own agenda and we will do our best to give you what you need.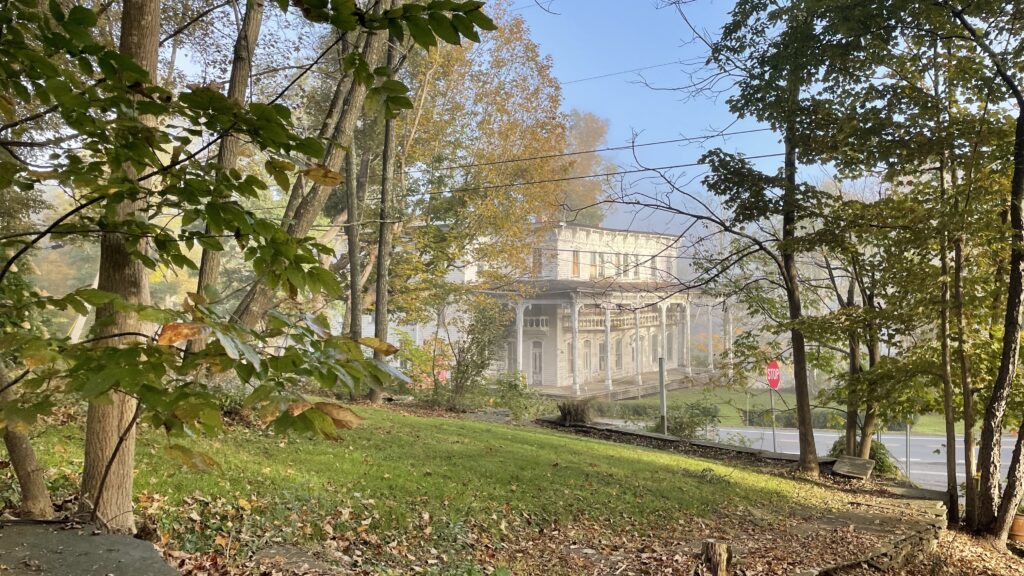 What is LexArtSci?
Lexington Arts + Science is the epicenter of the avante-garde art mecca revitalization of our Catskills mountaintop hamlet of Lexington as a creative hub.
Lexington Arts + Science (LexArtSci) consists of approximately ten buildings of wide variety of uses and sizes spread across a 30+ acre campus, bounded on one side by the Schoharie Creek, on the other by Packsaddle Mountain, and bisected by New York State Route 42.
Although it is in the center of the hamlet of Lexington, in a commercial district, LexArtSci feels very wild – worlds distant from NYC (2.5 hours), Albany (1.5 hours), Hudson and Catskill (45 minutes). Just seven miles from three premier ski resorts (Hunter, Windham and Bellayre), the Towns of Windham, Hunter and Prattsville and a thirty minute drive from Woodstock, the hamlet has largely been protected from modern development patterns and is a treasure in and of itself.
The Magic of Lexington Welcomes You.
LexArtSci Welcomes You.
LEXINGTON HOUSE
LexArtSci is working to restore the historic Lexington House in a way that helps to revitalize the larger town of Lexington. Guided by the Strong Towns playbook, combined with an ethos of conservation and creativity, as well as some ideas contained in Lexington's 2018 hamlet revitalization strategy (HRS), we have spent many months getting a sense of the place and speaking with town planners, architects, building professionals, creatives and most importantly, the Town of Lexington and the people who live and love here.

The HRS specifies a handful of priorities, among them:
-Establishing a general store;
-Creating space for additional small businesses;
-Making a more walkable hamlet;
-Slowing vehicular traffic through the hamlet;
-Restoring the LexArtSci barn as an anchor venue for the hamlet;
-Restoring the Lexington House and the Lexington Hotel.
Happily, in 2020, artist Patrick Meagher, LexArtSci, Prattsville Art Center, philanthropist Mary Kaplan (1936-2021), and others established Lexington Arts Revival Cooperation (LARC) whose collective goal is to resurrect Lexington hamlet as a creative hub.

LexArtSci brokered the lease agreement for Van Dusen's General Store, paving the way for LARC to fulfill the Town of Lexington's top priority named in its revitalization strategy (linked above). LexArtSci and LARC will continue to address other priorities in concerted effort with the Town.
We seek collaborators and co-operators, and are open to dialogue and ideas. Contact Alex at lexartsci @ gmail.com.